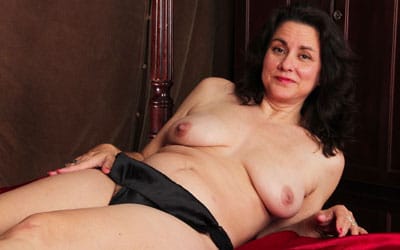 I was going to do something fucking filthy. That was my goal for the new year as a horny granny. At 68 and slutty as I am there isn't much I haven't tried! I couldn't think of anything off the top of my head, but I knew something would come to me.

After partying all day and most of the night last new year, I took some random guy home with me. He was much younger than me, I'd seen him eyeing up a few of the younger women there, but after I whispered in his ear what a dirty granny I was and told him, in detail, how hot and wet my cunt was, he hadn't left my side.

I'd slipped my hand in his jeans and stroked his hard rod most of the way home in the taxi. By the time we got to mine he was raging hard and horny as fuck, just how I like 'em!

I stripped off on my way into the lounge, stark naked by the time I reached the couch. I'm a confident, sexy horny granny, proud of my ageing body and saggy tits, I love showing them off. I sat on the edge of the couch and watched as he stripped off, never taking my eyes from his stiff cock.

I licked my lips, mmmmm I wanted a taste of that cock, but first, I wanted to cum. He knelt between my wide spread legs and teased my wet pussy with his fingers. Teasing my clit, spreading my lips and filling my cunt. I rode against his hand, it felt good, but I was feeling dirty. 'My arse' I said 'mmmmmm finger my arse'.

Juice from my pussy had run down between my cheeks, I always get so wet, his fingers were coated, he pressed two fingers against my tight hole and I moaned, taking them with ease. 'Ohhhhh More' I demanded, fucking myself against his fingers. He added another….then another to my horny granny arse.

Mmmmmmm ohhhh God four fingers stretched my arse painfully and still I wanted more. It was then I had the thought….I've never been fisted, not anally. Seeing my chance for a filthy, hard orgasm and a way to achieve my goal I cried 'More, your whole fucking hand. Fist me, fuck yes, fist my arse'.

His eyes widened 'Oh my god' he said 'you fucking filthy old bitch' but he did it, he clenched his hand into a fist and rammed it into my arse. 'Ahhhhhhhh' I cried out, I was frantically strumming on my clit, my arse was being fucked by a whole fist, my orgasm hitting me full force. 'Ohhhhhh, ohhhhh yes, yes…..fuck yes!' I screamed, swearing and bucking against his fist as I came. Mmmmmm I came so hard I thought I was going to pass out!

I lay back on the couch afterwards, feeling thoroughly fucked and deliciously dirty. 'Now' I said 'I want you to fuck my mouth and cum on my face'.

He straddled my horny granny tits, stroking his long, hard cock as he went. He placed the tip against my lips, brushing it back and forth, allowing me just a taste of what was to come, mmmmmm he tasted soooo good.

Without warning he thrust inside my wet, warm mouth, making me gag. He held nothing back, fucking my face and abusing my mouth. Harder and faster he fucked me, roughly, using my mouth, mmmmmm just how I liked.

I wanted him to cum, to feel his hot, thick cum run down my throat. I rolled his balls with one hand and gently tugged his tight sac. He thrust forward, unable to stop himself, crying out as he released, mmmmmmm pumping his hot, thick cum right down the back of my throat. It was so hard, so fast I barely tasted him!

I fucked him right through the night. I woke up on the first day of the year with a raw pussy and having already fulfilled my goal! What a filthy, horny granny I am!

Want to have your own fantasy session with a hot, experienced granny? Text and swap naughty shots with old sluts now!