Phone Alecia (60)
Call Me

09099 627 420
Calls cost £1.50 per min plus your phone company's access charge.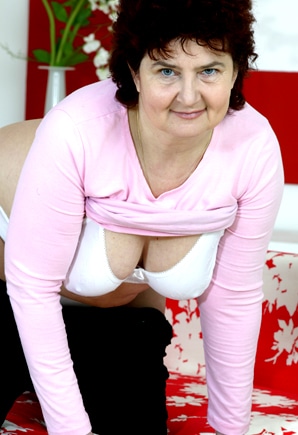 I'm a very horny mature woman, 60 years old in fact, and miss the feeling of a man inside me. My husband spends more time out with his friends up the club then with me and when he does want to have sex, he can't get it up half the time. That leaves me with a wet pussy and nothing to fill it. Don't let my initial shyness turn you away, there's still plenty of life left in me yet.
I don't have a lot of experience because I've been married to the same man for 30 years, but it's been so long that I can't stand it anymore. The thought of a big cock penetrating my aching hole makes me go absolutely wild.
"I hope you like larger girls because this old gal is a chubby lush."
I want you to slide your dick between my saggy tits and bang them bad. I absolutely love phone sex because I feel like I can be myself. I remember one time I got a call while my husband was downstairs watching telly. I ran out to the car with just my robe on and nothing else. I fingered myself sensually as we talked dirty and I actually left a puddle on the leather seats.
Okay, I may not know the ins and outs of it all but I know what I like and what I want to do to YOU. I'm ready to learn – learn about everything! I'm tired of the boring sex and even want to try anal and 'everything' else that dirty affairs offer. Desperately waiting, yours faithfully, Alecia x

For filthy 121 chat with Alecia

Call Me 09099 627 420
Calls cost £1.50 per min plus your phone company's access charge.
For text chat and pic swap with Alecia

Text: 50ALECIA To: 89126
Texts Costs £1.50 plus standard network charges per message received. Maximum three replies per text.