Phone Vi (72)
Call Me

09824 300 695
Calls cost £1.50 per min plus your phone company's access charge.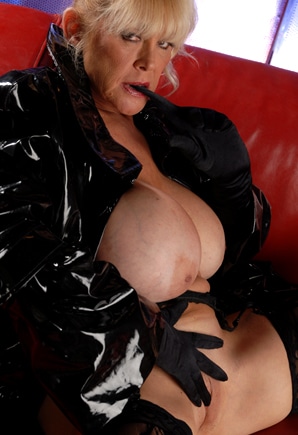 Listen to a hardcore Dominatrix granny pounding her wet, messy cunt – live! At 72 years old, I have more than enough experience under my PVC belt. I'll have you on your knees begging for more! I know exactly how to own your cock.
I have an obsession with all things PVC, rubber and role play. I can be a strict school Mistress, a naughty nurse making you take your medicine like a good boy or just a plain old bad ass, granny Domme! Whatever takes my fancy I'll be making you spill your load for me, again and again.
"I'll cover you in granny cum, just like all my fuck toys!"
But you won't even touch that fat juicy cock until I say so, will you sub? No, you'll wait for me to tell you exactly how I want you to wank for me. How hard, how fast, how tight. What I want you to imagine me doing to you…and you won't spill a single fucking drop of MY cum until granny fucking says so, will you!?!?
Of course, like all my little fuck toys, you'll have to earn your orgasm. I demand all my subs cover every in of PVC on my body with their tongues, before forcing their faces right into my wet, hot granny cunt. Mmmmmm I bet you'd eat me good wouldn't you? Yes, you want to please your granny Mistress, I can tell…


Phone fuck a dominatrix granny

Call Me 09824 300 695
Calls cost £1.50 per min plus your phone company's access charge.
Kinky adult text chat with pic swap

Text: 50LOVETT To: 89126
Texts Cost £1.50 plus standard network charges per message received. Maximum three replies per text.